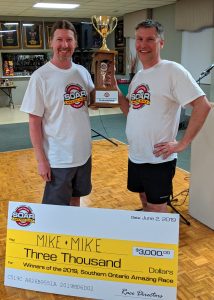 In 2019 – Best Friends, Mike and Mike of Ottawa placed first in the 16th Annual Southern Ontario Amazing Race. Mike and Mike walked away with:
The grand prize of a CA$3,000 travel gift certificate for a trip of their choice,

The experience of traveling across Southern Ontario in SOAR Style,

Along with their name printed on the coveted SOAR trophy.
The SOAR Application Process is simple:
Step 1: Choose a compatible partner for whom will make a great teammate in the race.
Step 2: Take one (1) clear, high-quality photo of you and your partner.
Step 3: While we don't need an application video, if you can provide a video outlining who you are and a bit about your team, we will use it to advertise your team page and on social media. Please don't include any background audio.
Step 4: When you have the above complete, see the button below to apply. Applications must be submitted no later than end-of-day, January 31, 2020.
Team Selection Process
Unlike other races with hundreds of racers, Race Directors only accept 20 teams into SOAR. This smaller number heightens the experience of the race and a combination of new and returning racers make the best competitive field.
1 TEAM: TOP PLACING TEAM FROM 2019
(Mike and Mike) will automatically be accepted. Note: they must still submit an application.
---
1 TEAM: TOP PLEDGE RAISING TEAM FROM 2019
Chris and Gill will automatically be accepted. Note: they must still submit an application.
---
3 TEAMS: 2019 VOLUNTEER LOTTERY
Three (3) spots will be available for any 2019 volunteers that wish to participate in the 2020 race. The team can be composed of one volunteer and the partner of their choice or two volunteers. The teams will be selected at random through a lottery system.
---
6 TEAMS: FIRST SIX PICKS

Six (6) spots will be available on a first come, first served basis.
---
9 TEAMS: DIRECTOR'S CHOICE
Nine (9) teams plus if any of the above categories are not filled, the Race Director's will choose the teams to round out the 20 spots. These teams will be chosen from returning racers, volunteers and new teams that have not yet been selected in a previous category.
** Please note that the 20 teams selected will be announced but the Team of Directors reserves the right to and will not announce who the Director's Choice teams are. All decisions by the Team of Directors are final and are not subject to review or appeal.
---
RACER ALUMNI (3 for 3 Rule)

In the past, rules excluded teams who raced three (3) times or won twice (2) from racing again. Racer Alumni may apply but they must commit to raising at least $3,000. All funds raised, including the $3,000 will count toward your STOAR total and can be used to purchase STOAR tokens.
Subject to change without notice.
Important Dates
December 30, 2019 – Officially Accepting Racer Application
February 2, 2020 – Racer Application Deadline

June 5, 2020 – Racer Orientation
June 6 and 7, 2020 – Race Weekend